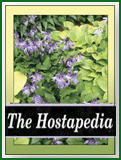 Of unidentified origin, this non-registered cultivar is of unidentified parentage but has H. sieboldii in its background. It is a medium size hosta about 14 inches high by 36 inches wide. The leaves are green with white marginal variegation.

According to The Hostapedia by Mark Zilis (2009), "...appears to be the same as Hosta sieboldii...not a legitimate cultivar..."

Might this be a smaller size of H. 'Silver Edge'?