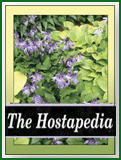 This self-pollinated seedling of H. 'Neat Splash' was registered by Dr. Ralph (Herb) Benedict of Michigan in 1985. It forms a medium size (11 inches high) mound of moderately wavy foliage and bears medium purple flowers in August.

According to The Hosta Handbook by Mark Zilis (2000), this cultivar is "...like a mini-'Yellow Splash Rim'."
The Book of Little Hostas by Kathy and Michael Shadrack (2010) says: "Light to moderate shade will bring out the best in this plant. Striking foliage. Suits the larger raised bed and big container."