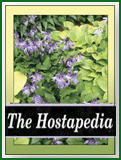 This medium size (18 inches high by 43 inches wide) cultivar is a sport H. 'Yellow Splash' which has yellow marginal variegation. It was registered by The American Hosta Society in 1986.
The plant has narrowly elliptic leaves that are slightly wavy and very shiny on the bottom. It bears purple flowers from late July into August followed by viable seeds.
According to The Hostapedia by Mark Zilis (2009), "In 1986 the American Hosta Society decided to name and register the green-centered sport of 'Yellow Splash'. The result was that most specimens of 'Yellow Splash' became 'Yellow Splash Rim'...Increases rapidly, covering large areas of ground. Not suitable as a pot plant."


An article by C.H. Falstad about the stability of colors in hosta leaves in The Hosta Journal (2006 Vol. 37 No. 1) says, "The least stable hostas tend to be those with streaked leaves...In September, 1982 I found the first streaked forms of 'Krossa Regal'...Today, more than 20 years later, most of those clumps remain predominately streaked...In comparison, I once owned a plant of 'Yellow Splash'...Within a year or two, it turned entirely into 'Yellow Splash Rim'..."