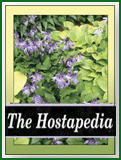 According to The Hostapedia by Mark Zilis (2009), this cultivar was "...originated by Minnie Klopping around 1968;" It was registered by Anne Arrett in 1975. Zilis also states that it is "...probably a hybrid of H. nakaiana and H. 'Elegans'."
It forms a medium size (17 inches high) mound of slightly wavy, faintly corrugated foliage with pale lavender flowers.
Similar cultivars include H. 'Heartleaf'.