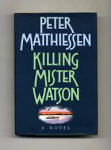 A sport of H. 'King Tut', this cultivar was registered by Dr. Leonard Jones of North Carolina in 1999. The heavily corrugated foliage with thick substance forms a medium size mound of 18 inches in height and 40 inches in width. Near white flowers bloom from late June.
Similar cultivars include H. 'Dick Ward', H. 'Emerald Treasure' and H. 'Nefertiti'.

Occasionally incorrectly called 'Mr Watson'.