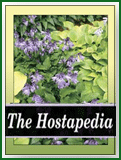 This hybrid of H. 'Dorothy Benedict' × H. montana 'Chirifu Oba' was registered by Dr. Ralph (Herb) Benedict of Michigan and Nancy Krul of Belle Gardens in Michigan in 1991.
It forms a large size (21 inches high) plant that, according to The Hostapedia by Mark Zilis (2009), is "...reminiscent of 'Sagae';" The leaves are moderately wavy, corrugated and have thick substance. It sports very pale lavender flowers from late July into August...As a garden plant, I think of 'My Friend Nancy' as being akin to a medium-size version of 'Sagae'."
Mikiko Lockwood in an article on The Hosta Library titled, A Little About Japanese Hosta Terms defines the term chirifu as speckled, mottled or overall variegated.