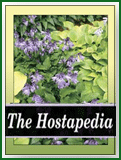 This is a streaked cultivar of the species, H. montana, that forms a giant size (32 inches high) mound of mottled foliage and flower scapes that reach over 6 feet tall. It was found in Japan and brought to the United States before 1990. This plant is sometimes mislabeled as H. montana 'Chirifu Tochigia'.
According to The Hostapedia by Mark Zilis (2009), "Some plants of this cultivar are infected with a virus but not all. It is a popular breeding plant and the resulting seedlings (some variegated, some green) have not tested positive for known viruses."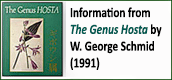 "Plant is a mutation of H. montana and there are 2 forms, either white- or yellow-spotted/variegated. In the wild from Gumma and Tokyo prefectures."

Mikiko Lockwood in an article on The Hosta Library titled, A Little About Japanese Hosta Terms defines the term chirifu as speckled, mottled or overall variegated and the term oba or ooba as large leaf, 'Oba Gibōshi' or H. montana.


An article about H. montana 'Chirifu' by Herb Benedict in The Hosta Journal (1991 Vol. 22 No. 2) states that, "About seven years ago, on one of her biannual trips to Japan, Hideko Gowen of Excelsior, Minnesota, brought back a very beautiful large gold-splashed form of Hosta montana. It was found in the wild by Mr. Sekini, in Tachigi Ken, Japan. George Schmid has suggested the name H. montana 'Chirifu'. Chirifu is a Japanese word which means "splashed" or "overall-variegated...The bloom stalks are well over six feet tall each with forty or more very fertile flowers."