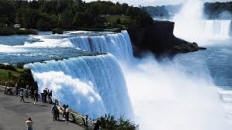 A cross between H. montana macrophylla × H. 'Sea Drift', this cultivar was jointly registered by William Brincka and Olga Petryszyn of Indiana in 1991. It is a slow growing, giant size (33 inches high by 60 inches wide), semi-upright mound of deeply lobed, dark green foliage. The leaves are heavily rippled, deeply veined and have thick substance. Pale lavender flowers with whitish bracts bloom in July.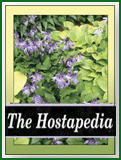 According to The Hostapedia by Mark Zilis (2009), "Anyone who lusts after piecrust-margined hostas should put 'Niagara Falls' at the top of their list. The large size mound size and vase-shaped habit accentuate this trait. It also rates as one of Olga Petryszyn's finest introductions and is a testament to her careful selection process."
The New Encyclopedia of Hostas by Diana Grenfell (2009) states: "Glaucous bloom on the leaf surface assumes a waxy sheen later in the season. Piecrust edges are not present on the leaves of young plants."
This cultivar was winner of the Benedict Garden Performance Medal for 2012.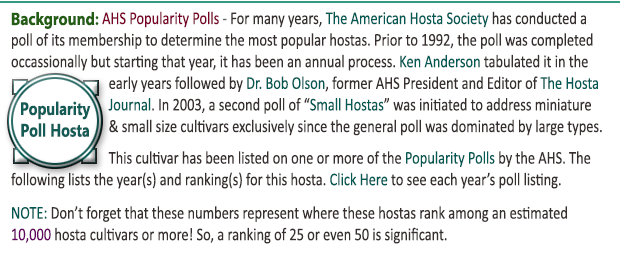 13
14.0

2007 #22
2008 #22
2009 #19
2010 #7
2011 #5
2012 #13
2013 #9
2014 #10
2015 #17
2016 #20
2017 #14
2018 #13
2019 #12