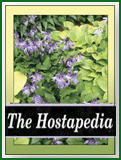 One of many tissue culture sport of H. 'Elegans', this medium to large size cultivar was registered by Clarence (C.H.) Falstad, III of Michigan in 1988. It grows to a height of 19 inches and a width of 50 inches with foliage that is slightly wavy, heavily corrugated and of thick substance. The near white flowers bloom in mid-June followed by viable seeds.

According to The Hostapedia by Mark Zilis (2009), "...improves on 'Northern Lights' in having a much better growth rate...can also be used as a breeding plant."
The New Encyclopedia of Hostas by Diana Grenfell (2009) states in its Hosta Hybrids for Connoisseurs chapter: "Very slow to establish and increase...the plant will be larger and more vigorous with moderate summer heat and humidity rather than intense heat. Makes an excellent breeding plant...Leaves have a pebbled surface texture and the central variegation has conspicuous netted veining."


"If you like variegated hostas, as I do, you'll love this one with its strongly-marbled center of light green, cream and white, with an irregular broad blue edge. As an added fillip, the tips of many of the leaves end in an elegant twist. Mine is still a young plant, but it will eventually be a fairly tall specimen. Again, no slugs will dare attack the heavily-substanced leaves. Even from afar visitors have been much taken with 'Northern Mist'."