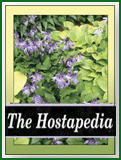 This medium size cultivar resulted from a cross of H. 'Sum and Substance' × H. plantaginea. It was registered by Mark Zilis of Illinois in 2003 and was the "convention plant" distributed to those who attended the 1991 National Convention of The American Hosta Society in Raleigh, North Carolina.
'Raleigh Remembrance' grows 15 inches high and spreads to about 32 inches with faintly corrugated, narrowly ovate shaped leaves. It bears medium lavender flowers starting in late July. Although one parent was H. plantaginea, it does not have fragrant blooms.
According to The Hostapedia by Mark Zilis (2009), "...an unusually slow grower. For some reason, it takes many years (five or more) to reach maturity."