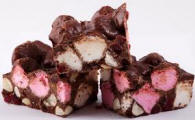 Robert Savory of Savory's Gardens in Minnesota registered this cross of H. 'Fortunei' × a seedling in 1988. At 22 inches high and 51 inches wide, this medium to large size plant has heavily corrugated, cupped foliage with a distinct tip. It bears pale purple flowers in July.
Similar cultivars include H. 'Goosebumps'. Seedlings include H. 'Country Road'.


"Registered by Bop Savory in 1988, it is one of his dark green leafed hostas. From 'Fortunei' parentage, its leaves are pointed and very puckered. That puckering and the very dark green, stiff leaves make this plant distinctive."