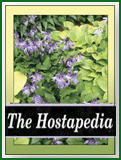 According to The Hostapedia by Mark Zilis (2009), "...published as a sport of 'Jade Scepter' (Eisel 1989), but sent to the registrar as a sport of 'Golden Tiara'; from tissue culture ; after observations since 1988, 'Gold Edger' the more likely mother plant." Is that confusing or what?

This cultivar which was registered by Mark Zilis of Illinois in 1988, forms a mound about 8 inches high with a spread of 17 inches. The foliage is heavily twisted, corrugated along some veins and of thin substance. Its lavender flowers bloom in July.
Mark Zilis (2000) continues, "Unlike many other white-centered cultivars, it has a fast growth rate...a bit of a fuss has been raised over the years about whether or not 'Royal Tiara' is truly a member of the "Tiara family", i.e. related to 'Golden Tiara'...I now believe that it came out 'Gold Edger', another plant my nursery was propagating at the time."
The New Encyclopedia of Hostas by Diana Grenfell (2009) states in its Hosta Hybrids for Connoisseurs chapter: "More vigorous than would be expected of a hosta with such twisted leaves."