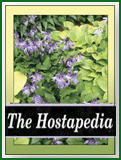 Part of the "Sea Series" of hostas, this seedling of H. 'Neat Splash' was registered by Mildred Seaver of Massachusetts in 1981. It grows 16 inches tall and 33 inches wide with slightly wavy, moderately corrugated foliage of average substance. Pale purple flowers bloom in late July.
According to The Hostapedia by Mark Zilis (2009), "...difficult to maintain, often stabilizing to 'Sea Thunder', the white-centered form, or one with all-green foliage.
Similar cultivars include H. 'Neat Splash'. Sports include H. 'Sea Thunder'.