This cultivar of unidentified parentage was obtained from Japan in the 1960s. It was registered by Mrs Elliot Hodgkin in 1988. 'Shelleys' forms a medium to large size mound with narrowly ovate and deeply veined foliage. Lavender flowers bloom from late July into mid-August.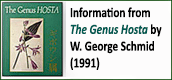 "Plant reportedly collected in Japan by the late British plantsman Elliot Hodgkin and named by Brickell for his garden."

This cultivar is sometimes labeled or listed incorrectly as 'Shelley's'.