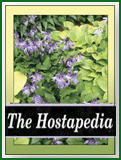 This non-registered cultivar from Japan forms a mound 19 inches tall and 39 inches wide. The leaves are oblong to ovate with a distinctive tip, smooth texture and smooth texture.
According to The Hostapedia by Mark Zilis (2009), "...purportedly produces fragrant flowers in late summer...the word "nishiki" should indicate that the plant has variegated foliage, but it does not."
Mikiko Lockwood in an article on The Hosta Library titled, A Little About Japanese Hosta Terms defines the term nishiki as brocade (rich-colored woven fabric) i.e. something colorful and beautiful.