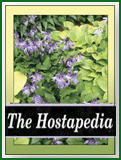 Originated in the wilds of Korea, this non-registered cultivar is a sport of H. minor. It is a small size hosta with green foliage. White flowers bloom in July.
According to The Hostapedia by Mark Zilis (2009), "This plant could also be listed as Hosta minor alba, but most plants with that name are actually H. sieboldii 'Alba'."
Mikiko Lockwood in an article on The Hosta Library titled, A Little About Japanese Hosta Terms defines the term shirobana as white flower.