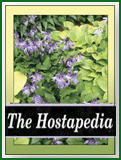 Originated in Japan, this non-registered cultivar is a sport of H. montana. It forms a large size hosta with green foliage that has yellow streaked variegation.
According to The Hostapedia by Mark Zilis (2009), "Don't confuse 'Shuho Nishiki' with 'Shunko Nishiki'. Both are variegated sports of Hosta montana, but 'Shuho Nishiki' has streakier foliage."
Mikiko Lockwood in an article on The Hosta Library titled, A Little About Japanese Hosta Terms defines the term nishiki as brocade (rich-colored woven fabric) i.e. something colorful and beautiful.