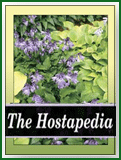 This sport of H. 'Sum and Substance' was registered by Ed Elslager in 2000. It is smaller than the mother plant and forms a large size (22 inches high) mound of moderately corrugated foliage with thick substance. Pale lavender flowers bloom from late June into July.
Mark Zilis (2009) commented that "My first impression of 'Sum Cup-o-Joe' was not positive...over the years, however, I realized that it had something going for it...The overall effect of this oddly colored, narrow-margined cultivar is that it is unusual and distinct. Don't use it in mass plantings, but certainly include one in your collection."
Similar cultivars include H. 'Sum Upper Crust'.