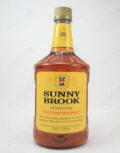 This medium size cultivar was registered in 1987 by Peter Ruh of Ohio and Pauline Banyai of Michigan on behalf of the originator, David Stone of Connecticut. It grows into a large size hosta about 18 inches high and 4 feet wide. The foliage is moderately corrugated, wavy and of thick substance. Its near white flowers bloom starting in mid-June.
According to The Hostapedia by Mark Zilis (2009), "...comes very close to 'Tokudama Flavocircinalis' in every respect..."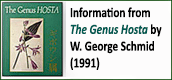 "Plant has yellow margins varying in width. Looks like a small H. 'Frances Williams'."



This cultivar was named for Sunnybrook Farms which is the home nursery of Peter Ruh.





In The Hosta Journal Vol. 23 No 1 1992, there is an article by Peter Ruh about the so-called David Stone Medium hostas which went by a numbering system that started with DSM. This cultivar was called DSM #5 and was described as "A small H. 'Aureo-marginata'one-third the size of H. 'Frances Williams'."