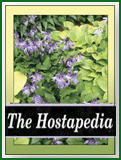 A self-pollinated seedling of H. 'Tsugaru Komachi' was registered by Dr. Ed Elslager of Michigan in 2000. It forms a miniature size (4 inches high by 9 inches wide) mound of delicate, lanceolate shaped foliage. This hosta bears purple flowers from mid-August into September followed by viable seeds.
According to The Hostapedia by Mark Zilis (2009), "The foliage color of 'Teenie-weenie Bikini' has always been

variable."
The Book of Little Hostas by Kathy and Michael Shadrack (2010) says: "The leaf centers often burn in strong sunshine. The small plant would be easily lost in any flowerbed but is ideally suited to the trough, tray or rockery."
The New Encyclopedia of Hostas by Diana Grenfell (2009) states in its Miniature Hostas chapter: "...it can "melt out" if the sunshine is strong. The leaves on mature plants are considerably wider than in juvenile plants. Divide frequently to prevent reversions. Vigorous...Very brightly colored foliage for a miniature hosta, with different color tones in the variegation on the first and second flush of leaves."
Mikiko Lockwood in an article on The Hosta Library titled, A Little About Japanese Hosta Terms defines the term komachi as a beauty or a belle.
An article by Warren I. Pollock in The Hosta Journal (2006 Vol. 37 No. 2) says, "Certainly 'Teeny-weenie Bikini' is both an odd looking and oddly spelled epithet. Certainly the hyphen or lowercase w, or both, will foul up some folks."