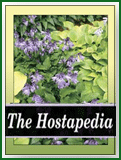 This is a non-registered sport of H. montana from Kenji Watanabe of Japan. It is a large size hosta with variegated foliage.
According to The Hostapedia by Mark Zilis (2009), "This may receive the award for most complicated and hard to pronounce cultivar name!"
Mikiko Lockwood in an article on The Hosta Library titled, A Little About Japanese Hosta Terms defines the term oba or ooba as large leaf, 'Oba Gibōshi' or H. montana and the term fukurin as margined or edged.