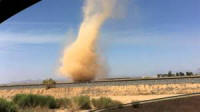 This medium size (18 inches high by 40 inches wide) plant has greenish-white medial variegations and a somewhat upright growth habit. The leaves are moderately corrugated, wavy and come to a tip. Lavender flowers bloom from late July into August.
John Kulpa of Michigan registered this cultivar in 1989 as a "probable" sport of H. 'Fortunei Hyacinthina' although, according to The Hosta Handbook by Mark Zilis (2000), "...it does not act like 'Fortunei Hyacinthina' at all."
From the Field Guide to Hostas by Mark Zilis (2014), "That cannot be since 'Second Wind', the green-leaved sport of' whirlwind' is not at all like 'Fortunei Hyacinthina'."
The New Encyclopedia of Hostas by Diana Grenfell (2009) states: "Leaf color varies with temperature and the age of the plant...Vigorous and easy to grow. Makes a superb ground cover...Differs from other medio-variegated hostas by its broad, twisted leaves on long petioles and the conspicuous green veins on the leaf's surface."