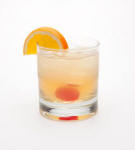 A hybrid of H. 'Ōgon Tsushima' × H. yingeri, this cultivar was registered in 2002 by Bob Solberg of Green Hill Farm in North Carolina. The large size hosta grows about 18 inches high and 44 inches wide with convexly cupped, slightly corrugated foliage. Its oblong to ovate shaped leaves have flat petioles and average substance. The pale lavender flowers bloom in August followed by viable seeds.
The New Encyclopedia of Hostas by Diana Grenfell (2009) states: "A good performer in all regions but needs shade in the hottest climates to prevent bleaching out or scorching...The bright yellow leaves are at their best in early summer. The flowers are widely spaced down the raceme."
Mikiko Lockwood in an article on The Hosta Library titled, A Little About Japanese Hosta Terms defines the term ogon or oogon as gold or yellow.