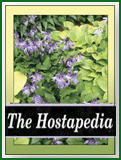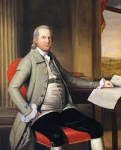 This is a seedling of H. 'Sharmon' × H. 'Golden Sunburst' that was introduced in 1974 by David Stone of Connecticut. It was known as H. 'Stone's Fantasy' before being registered under this name by Piedmont Gardens of Connecticut in 1982.
This giant size plant (30 inches high) is green with yellow blotches and streaks in the spring that turn all green by mid summer. The foliage is deeply veined, slightly rippled and corrugated. Pale lavender flowers bloom from late June into July.
According to The Hostapedia by Mark Zilis (2009), "At first glance, 'Wolcott' appears to be infected with a virus, but that is not the case. The unusual yellow splotches mimic the symptoms of Hosta Virus X in some respects, but they usually disappear by July 1."

This name could be in reference to a town in Connecticut or it could be about Oliver Wolcott, Governor of CT who lived from 1726 to 1797.