Ask the average person to name a lawn weed and odds are that they will say, "Dandelion". The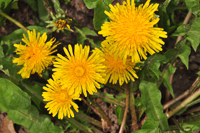 bright, yellow flowers of dandelions (Taraxacum officinale) sometimes come to dominate certain lawns in early summer. They are perennial plants that have long (2 to 3 foot long) taproots which anchor them firmly to the spot.
The bright yellow flowers are the most distinguishing trait followed by white, feathery seed heads. Dandelions are prolific seed producers and, if the lawn has thinned with small patches of bare soil, they will spread rapidly.