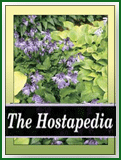 Developed by Dr. Jamison Harrison of Massachusetts in the 1960s and registered by Peter Ruh of Ohio on his behalf in 1999, this cultivar is a seedling of H. 'Tokudama'. It grows into a medium size hosta about 15 inches tall with a spread of 31 inches and has chartreuse foliage. The leaves are moderately corrugated and somewhat unruly. Very pale lavender flowers bloom from late June into July.
According to The Hostapedia by Mark Zilis (2009), "...more likely a seedling of 'Tokudama Aureonebulosa'...During the 1980s, a blue-green leaved 'Tokudama' was mistakenly sold as 'Bengee'."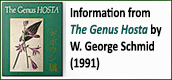 "Plant is a chartreuse-to-yellow H. 'Tokudama'. Color holds but can be more greenish or yellowish depending on culture and location. An all-green taxon is cultivated incorrectly under this name." Schmid says that this cultivar was named by Royall Bemis of Blackthorne Gardens in Massachusetts.



An article by Warren I. Pollock in The Hosta Journal (2014 Vol. 45 No. 1) states that, "...information from Dr. Kevin C. Vaughn...suggests that H. 'Bengee' likely is the pollen parent of the popular 'Sum and Substance'. ..What made 'Bengee' so interesting and desirable in the 1960s, especially to breeders, was it being the first all-gold 'Tokudama' type." Florence Shaw used it heavily as a parent," Kevin recalled."