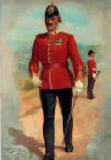 Originated by Barry Sligh of Taunton Gardens in New Zealand and registered on his behalf by the Registrar, Gayle Hatley Alley for The American Hosta Society in 2019. A sport of H. 'Blue Angel', this cultivar is a giant size plant about 35 inches high by 65 inches wide with moderate green (N138A) with a yellow marginal variegation of varying widths. The leaves are slightly shiny on top, broadly ovate, moderately wavy and have deeply impressed veins. Near white flowers with faint purple stripes bloom from mid-June into July on scapes up to 42 inches tall. It bears seeds but their viability was not known at the time of registration.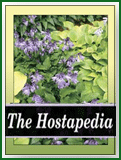 The registration materials state: "...Very large, upright clump of elegant leaves each held separately for maximum leaf display. A third (and sometimes fourth) grayish green color appears between the center and highly variable width yellow margin...emerges a soft blue-green with chartreuse margins before turning moderate green with yellow to creamy margins."
According to The Hostapedia by Mark Zilis (2009), "I have not been able to discern any difference between 'Duke of Cornwall' and 'Earth Angel'.