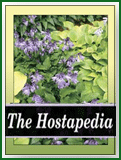 This is a hybrid of Hosta gracillima x H. 'Wogon Gold' was registered by the British Hosta and Hemerocallis Society in 1988 on behalf of the originator, Arthur George of Hydon Nurseries in England . It grows into a small size hosta about 8 inches in height with a spread of 22 inches. The leaves start the spring gold and turn green as the season progresses. They are slightly wavy and have average substance. Purple flowers bloom in July.
According to The Hostapedia by Mark Zilis (2009), "The identity of the true 'Hydon Sunset' has been confusing to say the least...if your plants are labeled 'Hydon Sunset' and start out the season gold, then turn green by midsummer, you probably have the true plant; but if they emerge with gold foliage and remain so all season long, they are 'Dawn'. Finally, any plants labeled 'Hydon Sunset' that become a large size mound of green foliage are unidentified, non-true plants."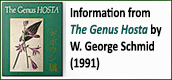 "Plant is a yellow, probably hybridized form of H. nakaiana slightly smaller than the species. The scapes show evidence of the characteristic ridges of section Lamellatae...The cross is frequently given as H. gracillima x H. 'Wogon', but this appears to be incorrect, because the ridged scapes point to H. nakaiana or H. venusta as a pod parent. Plants observed in North America retain their yellow variegation, while viridescence has been reported in plants grown in England."


An article by Warren I. Pollock in The Hosta Journal (1995 Vol. 26 No. 2) states that, "H. 'Dawn' is a small, gold-leaved, stoloniferous (actually rhizomatous) hosta with tall spires of purple flowers. A British hosta, the previous name was 'Sunset'. It's similar to 'Hydon Sunset' with which it was once confused.