This non-registered cultivar of unidentified parentage from Japan has round, streaked foliage that has a white bottom.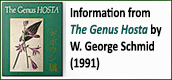 "Plant is a large-leaved hybrid resembling H. montana. Leaf is pruinose, with powdery white on underside. Primary color is green with irregular streaky whitish yellow variegation. Each leaf has a different pattern. Reported to be stable."


An article about H. 'Reiko' by Akira Horinaka in The Hosta Journal (2006 Vol. 37 No. 1) says, "H. 'Reiko', which has some of the most beautiful leaves I have ever seen...is a medium-sized hybrid cultivar that maintains its coloring throughout the season. It has a large leaf with white variegation. It has been one of the highest-priced hostas, rivaling 'Reiho'...It is a strong grower and keeps its beautiful leaves well into November."