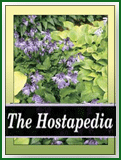 This seedling of H. 'Tortifrons' is a non-registered cultivar from Japan. It is a small size plant about 10 inches tall with a spread of around 30 inches. The foliage is dark green, wavy and has thick substance with purple red petioles.
According to The Hostapedia by Mark Zilis (2009), "Hideko Gowen brought this plant to the U.S. From Japan..."

Tornado




An article in The Hosta Journal (2002 Vol. 33 No. 1) reporting on a speech by Barry Yinger at the 2001 National Convention of The American Hosta Society stated "The Japanese take a different approach to hosta breeding than the Americans, creating some exciting new results. Native species, which look ugly or "peculiar" at best in the wild, are used in many Japanese hybrids, resulting in spectacular new varieties. H. 'Tortifrons' (noted for its very twisted, grass-like foliage), used in many Japanese hybrids, impairs a twist to the leaves of its offspring. One example given was H. 'Tatsumaki', meaning "tornado" which has large twisted leaves and attractive flowers."