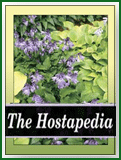 A tissue culture sport of H. 'Elatior', this cultivar was registered by Mark Zilis of Illinois in 2003. This giant size (38 inches high by 88 inches wide) semi-upright plant has leaves that are cupped at the base, wavy with smooth texture. Near white flowers bloom from mid-July into August.
According to The Hostapedia by Mark Zilis (2009), this cultivar "...is one of the finest sports found in my company's tissue culture lab. It certainly helps that its mother plant, 'Elatior', is an outstanding hosta with a large size mound size, vase-shaped habit, shiny leaves, and tall flower scapes...certainly the rival of 'Sagae' and 'Liberty' as a giant, variegated mound of foliage."

An article by Warren I. Pollock in The Hosta Journal (2011 Vol. 42 No. 1) states that, "The handsome 'Victory'...a sport of 'Elatior', has handsome green leaves with creamy yellow margin that fades to creamy white. It too has those exceedingly tall flower scapes; the registration gives their heights as 40 to 70 inches. I am one of those who does not consider the scapes of 'Elatior' and 'Victory' a positive attribute."
This cultivar was winner of the Benedict Garden Performance Medal for 2017.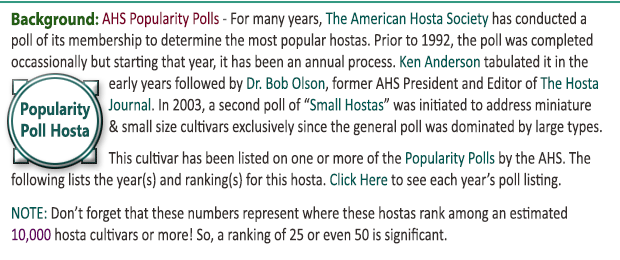 8
8.5

2013 #16
2014 #12
2015 #7
2016 #7
2017 #4
2018 #7
2019 #7
2020 #8