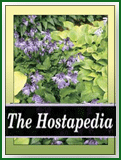 A hybrid of H. 'William Lachman' × H. 'Blue Moon', this cultivar was originated by Dr. Lloyd (Gil) Jones of Michigan and registered on his behalf in 2009 by Kevin Walek (Hosta Registrar). It is a small size hosta with dark green foliage that has a creamy white medial (center) variegation with some streaking in the center of the leaf. Pale lavender flowers bloom in July followed by reddish seed pods.
According to The Hostapedia by Mark Zilis (2009), this cultivar "...makes a striking, low mound of white-centered foliage. Unfortunately, it has the reputation of burning out in the center when exposed to too much direct light."



An article by Akira Horinaka in The Hosta Journal (2006 Vol. 37 No. 1) says, "Other white-centered hostas with bold green borders are 'Banana Boat', 'Warwick Delight', 'Pandora's Box', 'Sea Thunder' and 'Fire and Ice'. Those with a narrow green border include 'Morinji Nishiki', 'Otome-no-mai', 'Hakuba' and 'White Christmas'."
Mikiko Lockwood in an article on The Hosta Library titled, A Little About Japanese Hosta Terms defines the term otome as maiden, 'Otome Gibōshi' or H. venusta and the term nishiki as brocade (rich-colored woven fabric) i.e. something colorful and beautiful.