This plant was originated by Dr. Charles Purtymun at Walden West Nursery in Oregon. According to The Hosta Handbook by Mark Zilis (2000), "...registered as an open-pollinated seedling of H. 'Elegans' (Eisel 1988), but described as a hybrid of H. 'Elegans'× H. montana and a sibling to 'Abiqua Pagoda' (Purtymun and Hyslop 1988)"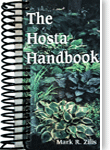 Anyway, it was registered in 1986 and forms a 30 inch (giant size) high cascading mound that spreads to 70 inches in width. The leaves have slight corrugation and slightly rippled margins. Near white flowers bloom atop 5 foot tall scapes in July.
Similar cultivars include H. 'Abiqua Pagoda', H. 'Blue Bayou' and H. nigrescens.