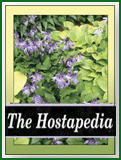 This cultivar was developed by Julia Geissler sometime before 1970 and registered on her behalf by Peter Ruh of Ohio in 1988. It is a result of a cross between H. 'Tokudama' × H. 'Sieboldiana'. The plant grows to a height of about 2 feet and spreads to 4 feet in diameter. Its heavily corrugated foliage has thick substance and a heavy bloom on both the top and bottom surface. Dense clusters of near white flowers bloom from mid-June into July.
According to The Hostapedia by Mark Zilis (2009), "Despite being one of the oldest of its category ("heavily corrugated, blue-green H. 'Elegans' type "), 'Aksarban' still rates as one of the best. Of course, the name "Aksarban" is "Nebraska" spelled backwards."
Similar cultivars include H. 'Big Daddy' and H. 'Perry's True Blue'.