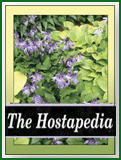 Dr. Dick and Jane Ward of Ohio registered this hybrid of H. 'Pin Stripe' × H. montana macrophylla in 1999. It forms a large size mound about 16 inches tall and spreading about 4 feet wide. The leaves are ovate shaped, moderately wavy with a thin bloom on the bottom side. It bears near white flowers on tall (33 inch) scapes from late June into July.
According to The Hostapedia by Mark Zilis (2009), "...has the look of a white-margined H. montana. It will probably get larger than the dimensions I've listed."
Similar cultivars include H. 'Grace McClure' and H. 'Mount Everest'.