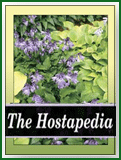 This is a non-registered cultivar that dates from the very early years of hostadom. It is a sport of H. 'Aoki' which grows into a large size hosta about 23 inches in height with a spread of around 55 inches. The leaves are blue-green with pale yellow marginal variegation.
According to The Hostapedia by Mark Zilis (2009), "...has never caught on in the nursery or collector's trade, possibly because the variegation disappears by early summer or due to its strange name."



An article by W. George Schmid in The Hosta Journal (1996 Vol. 27 No. 2) states that this is an "Invalid name".