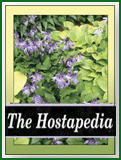 According to The Hostapedia by Mark Zilis (2009), "...registered as unidentified parentage (Eisel 1989 3a), but actually a seedling of H. montana..."
Forming a large size mound 2 feet tall by about 5 feet wide, this cultivar has rippled leaves and pale lavender flowers that bloom in July. It was registered by Clarence Lantis in 1979.
Similar cultivars include H. 'Fortunei Gigantea' and H. 'Mesa Fringe'.