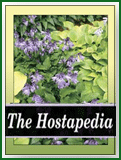 This large size (28 inches high by 60 inches wide) blue-green cultivar of the H. 'Elegans' type was originated by Florence Shaw of Massachusetts and registered by Paul Aden of New York in 1978. It has large, bell-shaped white flowers borne on a 48" tall scape followed by viable seeds. The plant is a cross between H. 'Blue Tiers' × H. 'Blue Angel'.

According to The Hostapedia by Mark Zilis (2009), this is one of many, many cultivars of a similar type to H. 'Elegans'.
The New Encyclopedia of Hostas by Diana Grenfell (2009) states: "A useful background hosta. Slow to get started...Leaves are thicker and more rigid than those of the H. 'Blue Angel' parent."