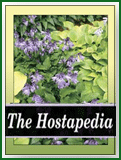 Originated by Piet Warmerdam of the Netherlands but registered on his behalf by Registrar, Gayle Hatley Alley for The American Hosta Society in 2020, this cultivar is a seedling of H. 'Elegans' × H. 'Halcyon'. It is a large size (24 inches high by 40 inches wide) cultivar with moderately greenish blue (122A RHS Colour Chart) foliage. The broadly ovate leaves are slightly corrugated, slightly shiny andglaucous on top and have deeply impressed veins. Near white flowers bloom in June and set viable seeds. Its size and features are similar to all H. 'Sieboldiana'-type hostas.
The registration materials state: "...Upright clump of powdery blue-green leaves that hold their bluish cast well throughout the season...If sited in shade it will retain its glaucous blue coating quite late in the season."
According to The Hostapedia by Mark Zilis (2009), "...sometimes incorrectly listed as 'Blue Mountain'."