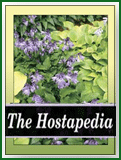 This cultivar was registered by Peter Ruh of Ohio in 1999 on behalf of the originator, William Borsch and Sons nursery in Multnomah, Oregon. It forms a giant size (38 inches high), semi-upright mound with very pale lavender flowers in late June to late July.
According to The Hostapedia by Mark Zilis (2009), "This plant was known as "Borsch #1" in collections for many years. It shows a close affinity to H. montana, which is evidenced by its whitish floral bracts."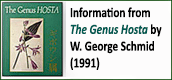 "Plant is identical to H. 'King James', a name given by Summers to a H. montana form plant received under number (probably B-1) from Krossa."