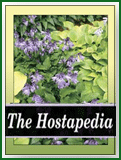 Registered by Lillian Maroushek of Minnesota in 1978 as a slow growing seedling of H.'King James', this giant size (32 inches high by 63 inches wide) hosta has medium green leaves with a white marginal variegation. The variegation on the leaf margin is unique due to a somewhat drawstring effect. Leaves are slightly cupped both up and down, slightly corrugated and have good substance. It has pale lavender flowers that are funnel shaped and borne on a 42 inch scape in July followed by viable seeds.

According to The Hostapedia by Mark Zilis (2009), this cultivar "...continues to be popular and justifiably so...with all of its good traits and prolific seed pod formation, it is surprising that few hybridizers utilize it."
The New Encyclopedia of Hostas by Diana Grenfell (2009) states: "Use as a specimen or at the edge of woodland. A classic and still the best of its type...A slightly upturned leaf edge sets it apart from similar hostas."