This hybrid of H. 'Iron Gate Supreme' × H. 'Green Fountain', was registered by Bob Solberg of Green Hill Farm in North Carolina in 2002. It is a medium size (18 inches high by 40 inches wide) plant that has intensely rippled, wavy leaves with serrated margins. The whitish flowers that bloom in July are slightly fragrant.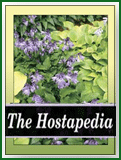 According to The Hostapedia by Mark Zilis (2009), "When Bob Solberg showed me 'Ginsu Knife' in 1998, I was impressed with the combination of marginal variegation and many irregular marginal ripples. In the garden it exhibits great distinction, making it immediately recognizable and a tremendous specimen at the same time."
The New Encyclopedia of Hostas by Diana Grenfell (2009) states: "The leaves can be rather flaccid. unstable variegation can produce streaking into the center of the blade and has now produced a streaked form...a superb, distinct, recent introduction...A dramatically arching, serrated leaf accentuated by an exaggeratedly twisted tip."



An article about H. 'Ginsu Knife' by Warren I. Pollock in The Hosta Journal (2002 Vol. 33 No. 2) states that, "Quite possibly this seedling of Bob Solberg...is the best new 2002 introduction...according to Solberg, ...it has taken us almost 15 years from seed to shipping to get this hosta to you. It is one of those hostas that, as soon as it came out of the ground as a seedling, caught my eye, not because it was incredibly beautiful but because it was incredibly weird."