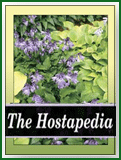 Paul Aden of New York registered this hybrid cultivar in 1974 although the originator is considered unknown. It is a giant size (32 inches high by 63 inches wide) plant with pale green leaves in the spring that change to chartreuse as the summer progresses. The leaves are slightly wavy, moderately corrugated and slightly cupped with good substance. It produces medium lavender, bell-shaped flowers which are fertile and borne on 50 inch tall scapes in July.
According to The Hostapedia by Mark Zilis (2009), "Though 'Gold Regal' was registered thirty-four years ago, I continue to think of it in the upper echelon of hosta cultivars. It can be used in many ways in the landscape, but is most impressive as a specimen plant."

The New Encyclopedia of Hostas by Diana Grenfell (2009) states: "Leaves will remain chartreuse if grown in the shade all day. Superb flowers are only one of this hosta's many attributes. An excellent breeding plant."
The Hosta Journal, (2006 Vol. 37 No. 2), contained an article in which several hostaphiles were asked to give a brief list of their favorite hosta flowers. This plant was included in that list.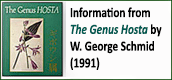 "Plant not related to H. 'Krossa Regal'."