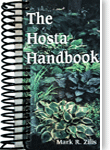 A sport of H. 'Golden Tiara' which is considered a tetraploid sport, this cultivar was originated by John Machen of Virginia and registered by Ali Pollock of Delaware in 1991. It grows into a medium size hosta with a height of about 16 inches and a width of 44 inches. The foliage is broadly ovate shaped and has good substance. The medium purple flowers bloom starting in mid-July.
According to The Hosta Handbook by Mark Zilis (2000), "...identified as a tetraploid in the early 1990s. Not only is the leaf margin wider, but the substance is much improved over 'Golden Tiara'."

A Photo Essay article by Steve Chamberlain in The Hosta Journal (2010 Vol. 41 No. 1) makes comments about H. 'Grand Prize', "Walters Gardens registered this wide-margined sport of 'Grand Tiara' in 1998. Since it is slightly stoloniferous (Mr PGC - Hostas are rhizomatous), it forms an every-widening low mound as it matures. For a time after the leaves emerge, the color contrast between the green center and yellow edge is particularly striking. Late in the summer, the leaf edges lighten to white."