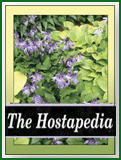 This H. montana seedling is a non-registered cultivar from Japan. It forms a large size mound of foliage that is speckled and misted white in color.
According to The Hostapedia by Mark Zilis (2009), "H. 'Hatsushimo' = H. 'Hatsushimo Nishiki' or H. montana 'Hatsushimo Nishiki'..."

First Frost and there is another hosta by the name of H. 'First Frost'.