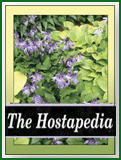 This sport of H. 'Halcyon' was originated by Patricia Scolnik of Breeze Hill Plant Lab in North Carolina and registered by Bob Solberg of Green Hill Farm in North Carolina in 2002. A medium size (14 inches high by 36 inches wide) mound of thick substanced foliage, this cultivar bears very pale lavender flowers from late July into August.

According to The Hostapedia by Mark Zilis (2009), "In spring its blue-green and yellow combination is quite striking. In midsummer the blue-green turns to dark green and the yellow to white..."
This cultivar has appeared several times in the Popularity Poll by members of The American Hosta Society (see below). It was the 2010 "Hosta of the Year" by the American Hosta Growers Association.
This cultivar was winner of the Benedict Garden Performance Medal for 2013.

There is also a Japanese cultivar named H. 'Hatsushimo Nishiki' which translates into First Frost.
Mikiko Lockwood in an article on The Hosta Library titled, A Little About Japanese Hosta Terms defines the term nishiki as brocade (rich-colored woven fabric) i.e. something colorful and beautiful.



An article in The Hosta Journal (2016 Vol. 47 No. 2) states that this also sold under the Tradename or Trademark of H. BLUE DEW.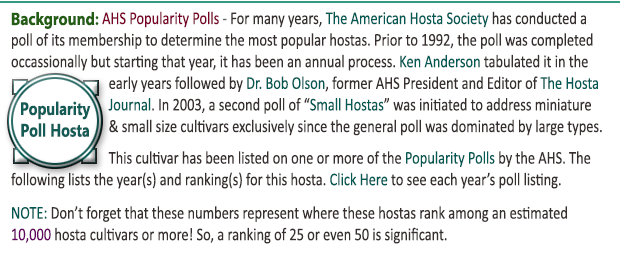 10
9.6

2008 #25
2009 #12
2010 #8
2011 #13
2012 #7
2013 #4
2014 #9
2015 #6
2016 #4
2017 #8