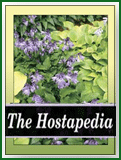 This cross between H. 'Sieboldiana' × H. ventricosa was registered (1999) by Barry Sligh of Taunton Gardens in New Zealand as part of his Kiwi Series of hostas. It forms a large size (20 inches high) mound of dark green foliage. It bears medium purple flowers from late July into August.
According to The Hostapedia by Mark Zilis (2009), ". .The registered parentage...is doubtful as this cultivar exhibits many traits of H. ventricosa and none from H. 'Sieboldiana'."


An article by Warren I. Pollock in The Hosta Journal (2001 Vol. 32 No. 2) states that, "...the 1995 Team New Zealand defended the America's Cup...racing yachting trophy. H. 'Kiwi Black Magic' was named for "Black Magic," the sailing vessel that won the race...At the 1998 National Convention of The American Hosta Society in Peoria, Illinois, a piece of H. 'Kiwi Black Magic' was auctioned for $1,100.00."