This is a sport of H. 'Francee' that was found in a group of seedlings by John Machen, Jr of Virginia. The same group of hosta seedlings at Mobjack Nursery also produced H. 'Patriot'. Both cultivars were registered in 1994. This is a 'Fortunei' type hosta.
'Minuteman' forms a large size (23 inches high by 50 inches wide)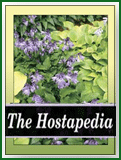 mound of slightly wavy, occasionally cupped and slightly corrugated foliage. It produces medium lavender flowers from late July into August but rarely forms seed pods.
According to The Hostapedia by Mark Zilis (2009), this cultivar "...is one of two tetraploid versions of 'Francee' found at Mobjack Nurseries in the early 1990s. It has become fairly common, only exceeded by 'Patriot'...differs from 'Patriot' in having a whiter margin and darker green centers."