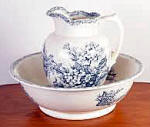 Registered by Paul Lehnard and the originator Joanna Kovalcsik of Michigan in 2020, this slow growing cultivar is a seedling of H. 'Gentle Giant' × H. 'Pebble Creek GPS'. It is an upright, giant size hosta about 29 inches high by 29 inches wide. The nearly round leaves are light blue-green in the spring but darken to medium blue-green later. They are deeply cupped, moderately corrugated and have a short up-turned leaf tip. Near white flowers with light lavender stripes and translucent margins bloom from late June into July on scapes 37 to 42 inches tall followed by viable seeds in green pods.
The registration materials state: "Rounded and deeply cupped blue-green leaves reminiscent of an old-fashioned basin."
According to Joanna, "I gifted this seedling to Paul Lenhard, it has matured in his garden, and he chose the name. We thought the large round leaves looked like an old-fashioned sink (basin.)."