This is part of the PeeDee Series of plants developed by Ursula Syre-Herz of South Carolina. This cultivar was registered in 1987 as an open-pollinated seedling of H. ventricosa. It forms a medium size (18 inches high) mound of medium to dark green foliage and has bright purple flowers in July. It does not form seed pods.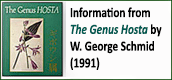 "Plant is a miniature H. ventricosa. Reblooms. Much smaller than H. 'Little Blue' and with a leaf shape very much like that of H. ventricosa."

The Hosta Journal, (2006 Vol. 37 No. 2), in an article about flower characteristics stated that this cultivar has "...a repeat bloomer..."